Tanjela M. Jackson, M.D.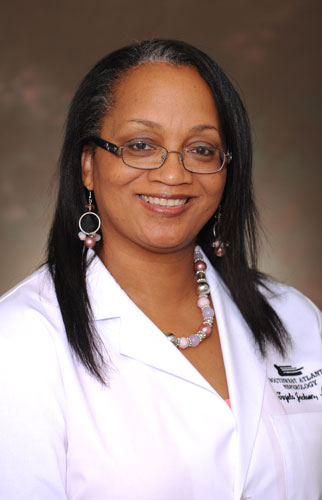 Tanjela Jackson
Tanjela M Jackson, MD is originally from Adel, Georgia. She majored in Microbiology at the University of Georgia and was a cum laude graduate in 1989. She graduated from Morehouse School of Medicine in 1993.
Dr. Jackson spent five years in the United States Navy and after rising to the rank of Lieutenant Commander was honorably discharged in 1998. She has fond memories of time spent in the Navy at Camp Lejeune, particularly when stationed with MSSG-24. In 1997, she became one of the first females deployed with the Marines (FSSG-24) in a combat arena.
After discharge from the Navy, Dr. Jackson continued her training at the University of Mississippi Medical Center where she completed her Internal Medicine Residency and her Nephrology Fellowship. She later worked at the VA Hospital in Jackson, Mississippi and continues to have a personal connection with the Veterans.
Dr. Jackson is board certified in Nephrology. She joined the staff of Southwest Atlanta Nephrology in 2007 and is now the Medical Director for McAfee Dialysis Center.
One of her passions is Patient Empowerment through Education. She strongly believes that the patient who is knowledgeable about his/her body and displays curiosity about its care has a better chance of enjoying an improved quality of life.
Dr. Jackson is married with four children. Her hobbies include football and basketball (in the role of spectator that is). She is a member of Alpha Kappa Alpha Sorority, Inc.
Related Links